Memphis Veterinary Specialists & Emergency offers pet ophthalmology services to diagnose and treat eye problems in dogs, cats and horses. 
Board-Certified Veterinary Ophthalmologist
Our veterinary ophthalmologist uses a cutting-edge approach to your pet's eye care. Because there are certain pet eye conditions that can be reversed if they're diagnosed in their early stages, we place a strong emphasis on the diagnostic portion of our ophthalmology services.
Ophthalmology Services for Pets
Veterinary Ophthalmology involves studying and treating diseases and disorders of the eye. By partnering with your pet's primary care veterinarian, we can develop a cutting-edge approach to diagnose and manage your pet's eye care needs.
Common Eye Problems in Pets
At Memphis Veterinary Specialists & Emergency, we can diagnose and treat virtually any eye disease or condition, with special consideration to the visible symptoms. 
Some of the most common eye problems we treat include:
Cataracts
Scratches / Abrasions
Drainage
Corneal Ulcers
Infections
Vision Loss
Tumors
Auto-Immune Conditions
Glaucoma
Dry Eye
Eyelid Issues
Retinal Disease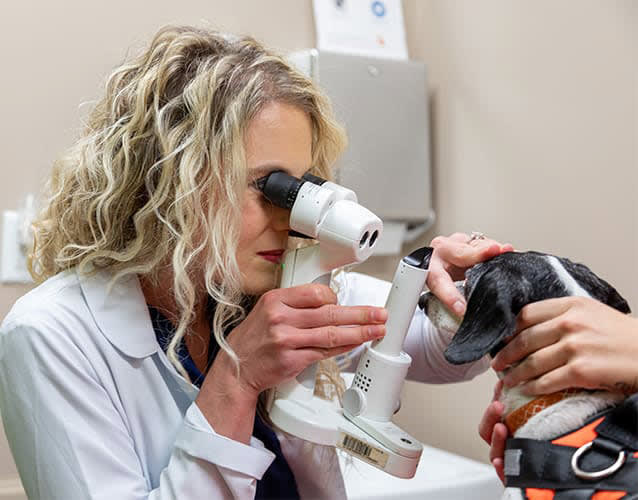 What does an Ophthamologist do?
Our Ophthalmologist specializes in eye disease in dogs, cats, horses, and exotics. We can diagnose and treat: cataracts, glaucoma, corneal diseases and eyelid abnormalities in animals. Dedication to providing pets with cutting edge eye care and pooling resources with referring veterinarians helps develop a team-oriented approach to maintaining pets' ocular health.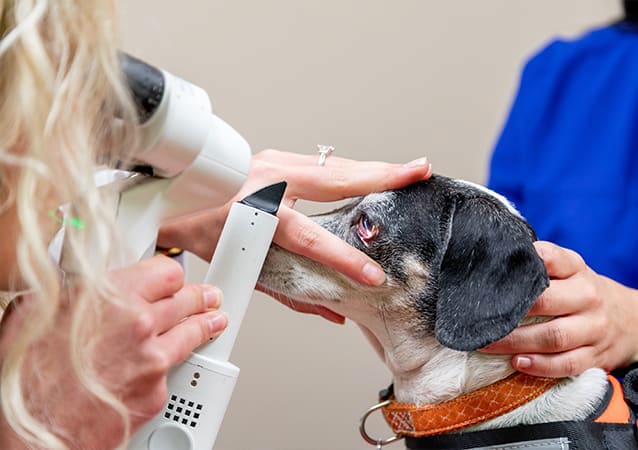 Symptoms of Eye Problems in Pets
While there are some eye problems that can be easily detected by their symptoms, there are others that are more subtle.
Consider the list below of some of the most common symptoms related to a pet's eyes that could indicate an eye disease or disorder:
Discharge
Squinting
Tearing / Tear-Stained Fur
Rubbing Eyes
Swelling
Cloudiness
Redness
Change in Eye Color
Visible Third Eyelid
From Happy Pet Owners
"My little guy had the best knowledgeable care, I felt very welcomed, and everyone was very generous. Thank you, MVS!"