Cordova Emergency Vet with 24/7 Emergency Care
At Memphis Veterinary Specialists & Emergency in Cordova, we offer 24/7 emergency services for cats and dogs in the Greater Memphis Area
If your pet is experiencing any symptoms or behaviors that you are concerned about, come to our office right away. Call us ahead if you can. The reliable and compassionate team at Memphis Veterinary Specialists & Emergency is here for your pet 365 days a year, 24/7.
Across the country, veterinary hospitals continue to see an unprecedented level of emergency cases. While our Emergency Service is operating 24/7, to maintain excellence in patient care, we are currently open to Priority 1 and 2 cases only. Priority 3 cases are encouraged to seek medical attention outside of the ER setting to minimize your wait time and allow our staff to remain devoted to the most critical patients.
If your pet's specific illness is not listed, please call and our staff will help determine their predicted priority level and if an ER visit is indicated. Refer here for Priority Chart.
What To Do In A Pet Emergency
Knowing what to expect at our emergency veterinary clinic will make the process easier for both you and your pet. 
STEP 1


Call Ahead If You Can

In an emergency, we know you may not be able to contact us in advance, but if you can it's always best. If you have time, we also invite you to complete our New Patient Form in advance. 
STEP 2


Get To Our Emergency Vet Office Right Away

You will be shown to an exam room and asked to complete our New Patient Form if you have not already done so. A veterinary technician will triage your pet, and then a veterinarian will complete a full examination of your pet. 
STEP 3


Determine Treatment

Once assessed, our highly trained veterinarians will formulate a treatment plan so your pet can receive the best possible treatment. 
Animal Emergency FAQs
Emergency veterinary care is the treatment of animals in situations that require immediate attention, or could potentially be life-threatening.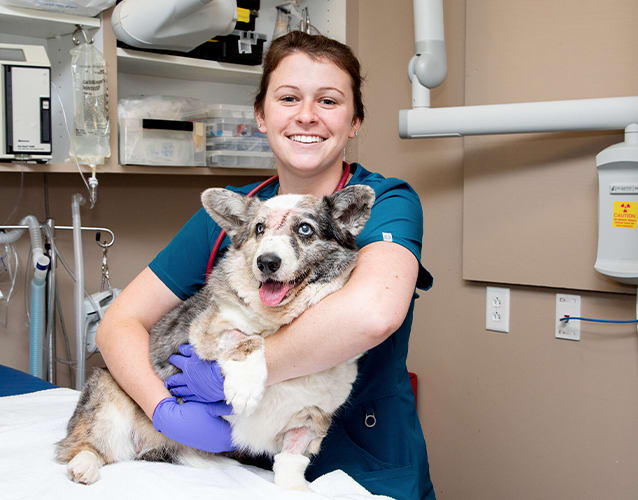 From Happy Pet Owners
"This facility and their staff are absolutely top notch! Not only are they EXTREMELY knowledgeable, but they are a class act! I would HIGHLY recommend them for ANY of your pets!"