Our board-certified veterinary radiologist provides diagnostic imaging and interpretation needed to help diagnose certain medical conditions and tailor treatment plans for pets in Memphis.
Board-Certified Veterinary Radiologist
A board-certified radiologist is someone who has undergone advanced training in all diagnostic imaging modalities. We are pleased to have the only in-house board-certified radiologist in West Tennessee, Dr. Jenny Miller. Dr. Miller provides imaging services for our in-house patients, as well as outpatient ultrasound services and radiographic telemedicine services for referring veterinarians.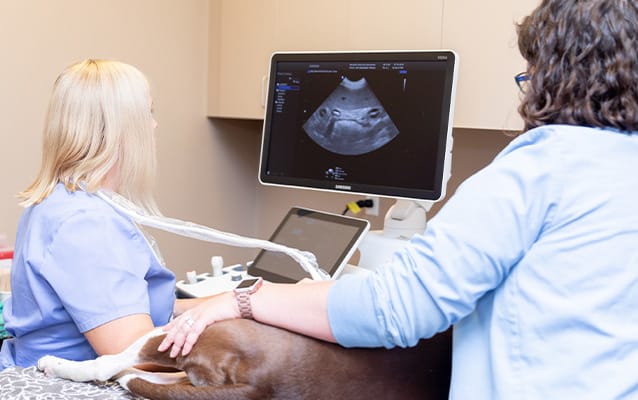 Diagnostic Imaging Services
Diagnostic imaging is the use of electromagnetic radiation and other technologies to produce highly detailed images of the internal structures of your pet's body to help provide accurate diagnosis.
The following imaging modalities are available at Memphis Veterinary Specialists:
Digital X-Ray
Fluoroscopy
Ultrasound
Computed Tomography (CT scan)
Ultrasound
Abdominal ultrasound, thoracic ultrasound and echocardiography (cardiac ultrasound), as well as ultrasound of other body regions of interest, are available to our patients through our radiologist. 
We also provide outpatient ultrasound services for referring veterinarians to help assist them in their diagnostic work-up.
Outpatient Ultrasound Referrals
Computed Tomography (CT scan)
Memphis Veterinary Specialists & Emergency is the only veterinary hospital in West Tennessee equipped with an on-site computed tomography (CT) scanner. 
A CT scanner is an advanced, non-invasive and painless diagnostic imaging tool that allows our radiologist to view the internal anatomy of a patient by producing highly detailed cross-sectional images. 
Our specialists frequently use CT scans for planning surgery and for diagnosing specific disease processes that affect certain regions in the body, such as the spine, nasal cavity, middle/inner ear, abdomen, thorax, and joints.  CT scans are also often used for the detection of pet cancer and can be very helpful for treatment planning and early detection.
From Happy Pet Owners
Dr. Miller and all of the MVS staff are fantastic! They all have gone above and beyond for our precious Peteie! Thank you for all you do."