Cat Poisoning
Cats are nimble explorers. Their outstanding ability to jump and climb makes keeping toxic houseplants out of kitty's reach, challenging to say the least.
That's why our Memphis Emergency Specialist vets recommend that you take an inventory of the plants in your home and garden and identify any that could be poisonous to your cat.
Knowing the names of the plants in your home could help your vet to treat your feline friend if an emergency happens. That said, removing toxic houseplants from your home is the safest thing that you can do for your kitty.
Whenever you see your cat chewing on a houseplant it's a good idea to call your vet. Providing the name of plant will help your veterinarian to decide what action should be taken to help protect your cat's health.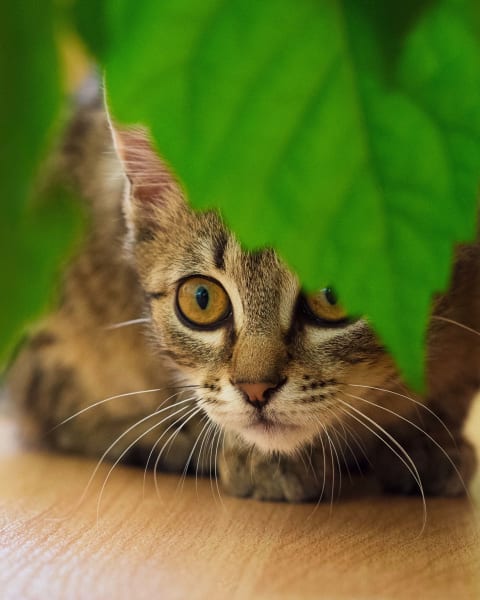 Some Common Plants That Are Poisonous to Cats
Plants that are toxic to cats may cause a variety of symptoms ranging from mild skin irritations to serious kidney or heart conditions. Whenever possible it's best to avoid having the following plants around your home or garden. 
Spring bulbs 
Amaryllis 
Autumn Crocus
Azaleas and Rhododendrons
Castor Bean
Chrysanthemum 
Daffodils
Dieffenbachia 
English Ivy 
Hyacinths
Kalanchoe
Lily
Lily of the Valley
Marijuana 
Oleander 
Peace Lily 
Pothos, Devil's Ivy
Sago Palm
Spanish Thyme
Tulip
Yew
Signs & Symptoms of Poisoning in Cats
Depending on the plant species that has been ingested, the early signs and symptoms of poisoning can vary greatly.
Plants that are irritants may cause symptoms such as: itchiness, swelling, red or watery eyes, and irritation around the mouth.
Plants that effect cats' gastrointestinal tract may cause symptoms including: vomiting and diarrhea.
If your cats' organs have been effected by ingesting a toxic plant, symptoms of poisoning may include: breathing difficulties, drooling, difficulties swallowing, excessive drinking, frequent urination, irregular heartbeat, overall weakness.
What To Do If Your Cat Has Been Eating Plants 
If you spot your cat eating a plant, and you are unsure if the plant is safe, seeing your vet is the safest course of action. Before heading to the vet be sure to take the following steps:
Calmly move your cat to a safe confined space away from the plant in question. 
Remove any bits of plant from around your cat's mouth, paws, and fur.
Identify the plant.
Call your regular veterinarian or Memphis Veterinary Specialists & Emergency in Cordova to let them know what has happened.
Safely bring a sample of the plant with you to show the vet.
If you are unsure of the plant your cat has eaten, bring a sample of your cat's vomit containing the plant material.
Diagnosis of Plant Poisoning in Cats
Identifying the plant that your cat has eaten will help your vet to make a diagnosis quickly and begin effective treatment right away. If you are unsure of the plant that your cat has ingested your vet will run a series of tests to identify any symptoms or conditions caused by poisoning. 
If you see your cat eating a plant that isn't safe, or if you notice any symptoms of poisoning, come to our office right away. Our reliable and compassionate team of veterinary specialists are here for your pet 365 days a year, 24/7.